Now how to set-up FreeDns??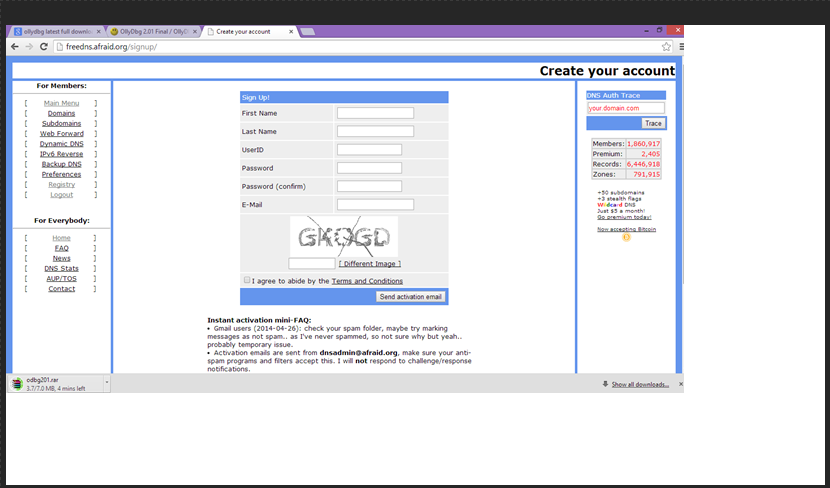 Feel in your individual details just like below (Make sure to change name..>>for the clueless dont use the name you see below!!)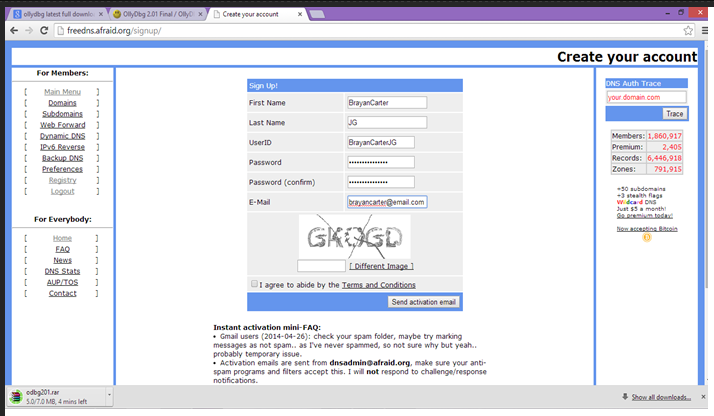 ]
Then click "send activation email"
2.After you have confirmed the email, go back to FreeDns and then select Dynamic Dns (should be on your right or just folllow the picture)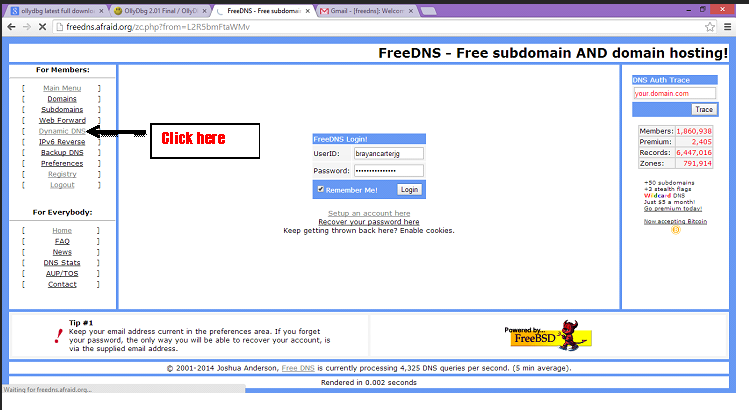 It will ask you to enter your login cridentials enter them as in the email, together with your password and click login
3. Once you login click on "sub-domain tab" and then click "Add a domain"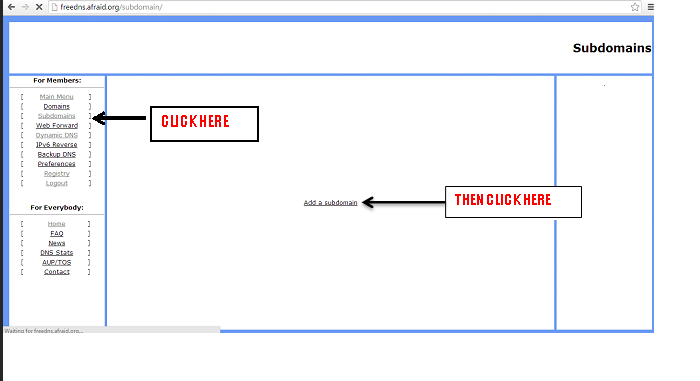 4. It should present you with a "form entry page". again enter your details and select your domain just as below::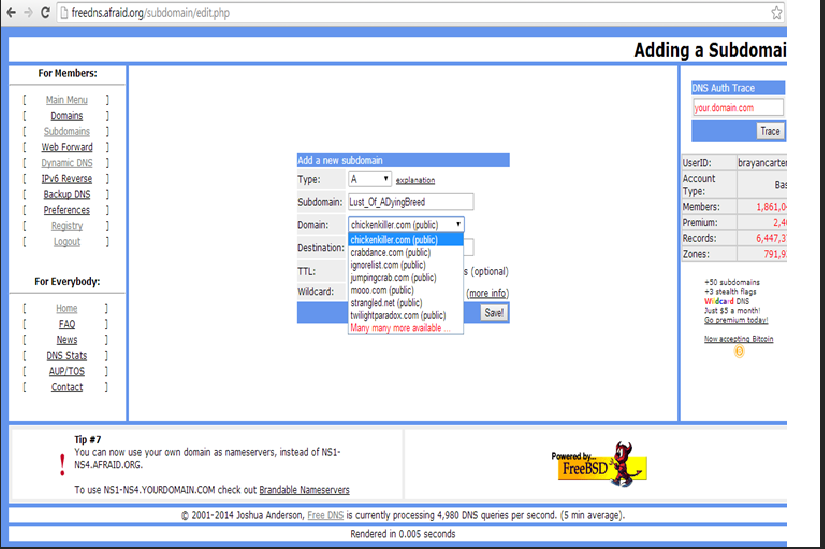 Then click save...Hehe i chose chickenkiller..nyc name
sHOULD LOOOK SOMETHING LIKE THIS:>>>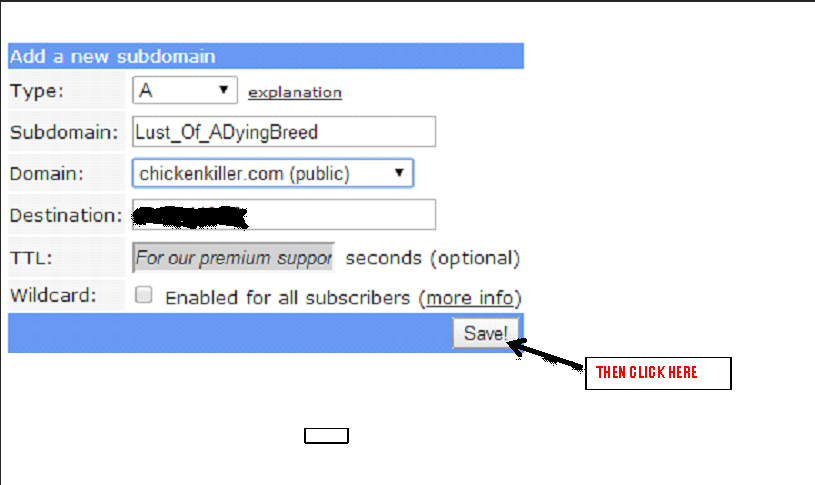 6. Nw then go back to the free-dns site and select "Dynamic DNS tab", then click on the "wget scripts" which are on the bottomest side
as shown below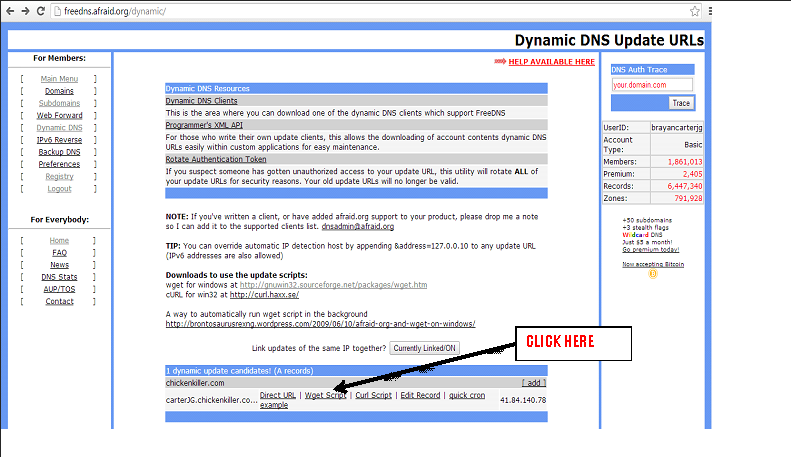 a ".bat" file will pop-up just simply download it and you are done
so whenever you need to run your DNS, just simply open the bat file before opening your Remote Administration Tool (RAT) AND your ip will gt syncronised with your DNS :0
7. NOW WHAT?
In your Remote Administration Tool (RAT) just simply (in the connection area) enter your new foud dormain together with your set-up port for example
"DormainName.chickenkiller.com:1604" or as below..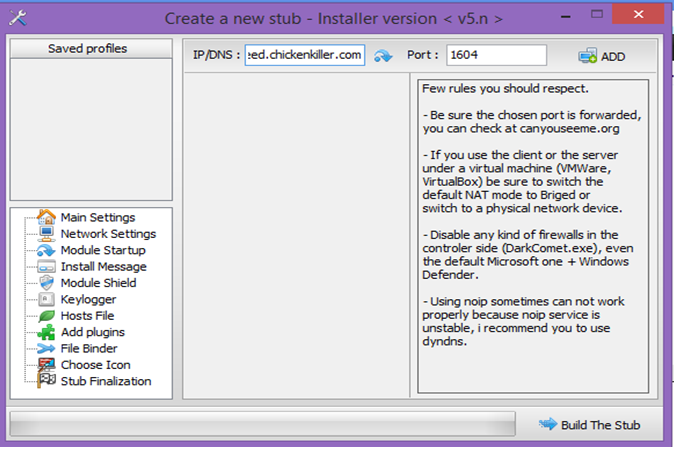 MECHANICS EXPLANATION
MAKE SURE TO EDIT THE BAT FILE AS BELOW
>> cd:"Location of your GnuWin32\bin file
rem "Your Domain Name e.g blabla.chickenkiller.com"
then save
Run the .bat file as Admin
The bat once executed will run and close immediately so dont think its a problem.
If it wont work on your sandbox try using a VM or another separate PC. aLSO TRY MOVING THE BAT file in the wget installer folder(C:\ProgramFiles\GnuWin32)
and run it when there.
If IT STILl it doesnt coNNECT try CHANGing YOUR PORT or just temporarily disable your firewall and then see if it works
Read More